AccommodationTariff MenusWines & Whisky GardenFarmLatest NewsLocal Attractions Availability Contact us DirectionsSpecial Offers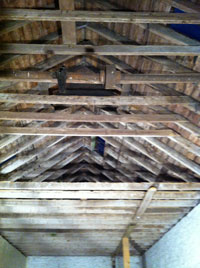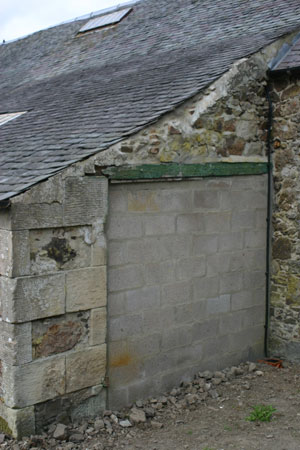 We want to remove the ugly breeze-blocks from the barn doors - we have waited over a year for Listed Building Consent to do this work.
Councillors voted unanimously to grant the application at the Planning Committee Meeting in Hamilton on Tuesday 4th November. The barn was seen as an asset to Biggar and the surrounding area, and the council were supportive of the change which was in accordance with their current strategic plans for the county.
This is very good news after all our hard work. We were recommended to make this change to the barn by Scottish Enterprise who have helped over the last 4 years to make this new use of the barn possible. Biggar needs new jobs and new opportunities if it is to remain vibrant. We recognise that change can be difficult, but use of the listed barn in this way will preserve it for the future as a barn, a communal space, rather than a house.
The barn, listed by Historic Scotland, has been sympathetically restored using original Welsh slate, whinstone from the nearby quarry, and lime mortar. There is still a lot of work to be done, but this is a great step towards preserving this historic building for future generations. More assessments, plans and drawings need to be approved by the council in the next few months. The application for Listed Building Consent is still outstanding and will be granted when future building work is approved. It is hoped that the barn can open for events in the Summer.
We aim to create a sustainable party venue, using electricity generated from our own small wind turbine and consumption of delicious local produce.
Please note that we are not taking any bookings for weddings at Cormiston Farm at the moment. Sorry for the disappointment. As soon as the barn becomes available for bookings, we will let you know.