Weddings B&B TariffB&B MenusWines & WhiskyGardenFarmLatest NewsLocal Attractions Contact us DirectionsSpecial Offers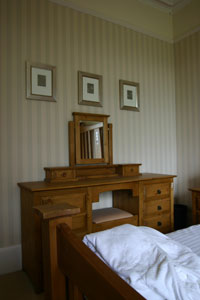 Culter Fell Bedroom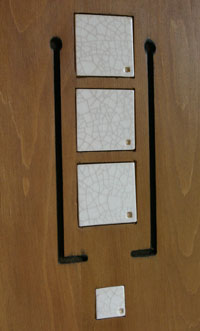 Tile inset in Culter Fell Bed
Check availability by selecting the date you require from the pull down menu and press the Search button to view available rooms and dates:
Booking by email or telephone If you prefer to book a room by email, or telephone, or even just to ask a question, please telephone 01899 221507 or email or text using the information on the Contact Us page.
Family Room As a family room Culter Fell can accommodate 2 adults and two or more children in the small room next door. The online booking system allows a family room booking for Culter Fell Bedroom (2 adults and 1 or 2 children). If you require additional camp beds for children or a cot, then please telephone or email so we can make the arrangements directly.
We are happy to cook tea for your children and then make a supper for you while they are tucked up in bed.
Date Unavailable? Even if the date is shown as unavailable, it may be worth calling or emailing as we occasionally have cancellations at short notice. It is worth booking early, especially for weekends Bank Holidays and at Christmas and Hogmanay.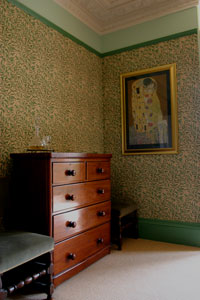 Tinto Bedroom - William Morris Wallpaper, Georgian and Edwardian Furniture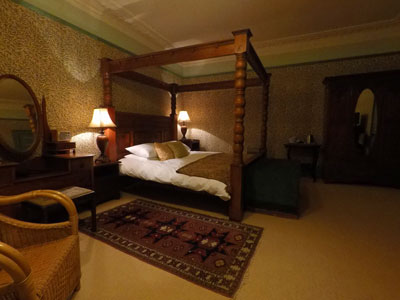 Tinto Bedroom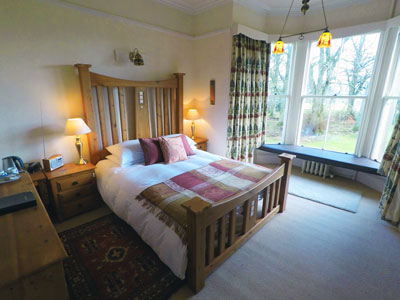 Culter Fell Bedroom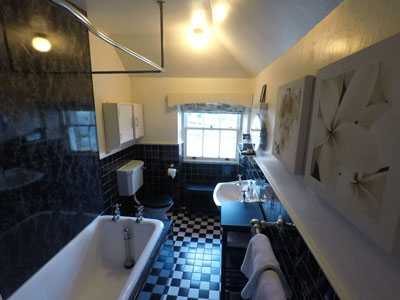 Tinto Bathroom with original Victorian Bath